RV Terms And What They Mean


An RV Glossary



RV terms are those buzz words you hear when someone talks about their RV, and you may hear some you are not familiar with. What exactly are they talking about?
There are several terms that you may have heard, but just didn't know what they were or what it meant. 

We want you to know the RV lingo, so to speak.
You will need to know most of these terms when you use your camper.
They are part of what the makeup of camping is.
They are used by other campers and at camper part stores.
Keeping up with your RV handbook when ordering parts will save you some time in trying to describe that thingamajig or that whatchamacallit that is not working!
I will explain some of the RV terms you may have heard:
Alphabetical List of RV Terms

A
Aluminum Frame - This is a type of construction that some frames are made up of. Some are constructed of wood.
Amps - Most RVs have a 30amp, 120volt electrical system. If the RV has more appliances or 2 air conditioners, then you may find a 50amp, 120volt system.
Awning - This is a vinyl "porch roof" that rolls out from over the door that offers shade and weather protection. Some are pulled out with a rod and some are electric. Some of the older models have to be pulled out by hand and need some pole support along with tie downs.
Axle Ratio - This is determined according to the drive shaft rotation. The drive shaft has to turn a full round for each full turn of the axle. It is calculated in ratios. Each camper is different.
B
Ball Hitch - This RV term is a hitch mount you insert into your hitch that has a towing ball on the end of which you pull your camper with. The ball size varies depending on your camper tongue. Most will have a 1 7/8", 2" or 2 5/16" ball hitch. You can change the ball hitches to meet other needs in towing as well.
Black Water Holding Tank - This RV term refers to the tank mounted underneath your camper that holds your black water (sewer). This tank is to have chemicals added for odor control and waste break down. It will be emptied on your way out of the campground at the dumping station. (One word of advice:Always drain the black water first, leave the valve open, then empty the gray water. This helps rinse out the black water tank.) Make sure the valve is completely closed before leaving the campground dumping station.
Brake Control - Most of the brake controllers are electric and are normally mounted under the dash on the driver side of the vehicle for easy adjustment. This device activates the brakes on your camper when you brake. It works in conjunction with the braking cable.
Break-Away Switch - This RV term is a built in feature of the brake controller in which a cable is pulled if the tow vehicle and camper are separated. This cable is a 12v activated override which applies the brakes on the camper without you applying the brakes.
Bumper Pull - This is a type of camper that hooks to a tow vehicle by a bumper mounted hitch. It is an RV term referred to as a tag along or a pull behind camper.
C
Cab Over - A Type C Motorhome generally has a cab over. This is an extension over the vehicle cab. Most of the time it is a sleeping compartment.
Camping Hookups - This RV term is the services you use when you camp at a campground. You will find an electric box, water pump and on some sites a sewer drain. Not all camping sites are equipped with a sewer drain. All have electric boxes and water pumps unless you are dry camping.
Converter - This converts 120v AC power to 12v DC power. Most everything in your camper will run on 12v. The larger pulling amperage sources such as the refrigerator, air conditioner, microwave and television will need to be converted over.
D
Deep Cycle Battery - This battery is used to supply sufficient voltage to run the appliances and or accessories. These batteries are designed to be a heavy duty battery that can hold a charge much longer than a standard battery. These batteries are designed to charge when the tow vehicle is running when the cable hook up is plugged into the hitch.
Dinghy - This RV term often refers to the vehicle being towed behind a motor home.
Dry Camping - This RV term means a "no hook up" style of camping. You camp without electricity or water hook ups. Your 12v battery will still allow you to use your appliances as long as you keep the battery charged. You would need to fill your fresh water holding tank and that water would be pumped through your faucets using your battery power. A generator would be a nice addition for dry camping.
Dry Weight - This RV term means the weight of the camper without anything added to it. Factory weight is the dry weight.
Direct Spark Ignition - This RV term is what ignites the burner on your propane appliances. Most are started by pushing a button or turning a knob. You will find these on your hot water heaters, refrigerators, furnaces and stove/ovens.
Ducts - These are the channels that air is forced through to blow throughout the vents of the camper.
Dually - This RV term is a type of truck that has 2 tires on each side of the rear axle instead of a single tire on each side.
Dumping Valve - These are the valves you pull out to empty the black water and fresh water. You will find them on the driver side of your camper located underneath within reach, most of the time in the mid to rear section of the camper.
Dump Station - This RV term is where you go to empty your black water and fresh water tanks before you leave the campground.
E
Electric Brakes - The electric brakes on the camper are applied when the towing vehicle brakes are applied through the brake controller.
Equalizing Hitch - This is the same thing as the weight distribution hitch which uses torsion bars to put most of the weight of the trailer tongue to the tow vehicle's axles.
F
Fifth Wheel Camper - This type of travel trailer is attached to the tow vehicle through a hitch mounted in the bed of the pickup. It has a cab over the truck roof which holds a sleeping area.
Filon - This is a fiberglass sheeting used on RVs with fiberglass sidewall construction.
Folding Camper - This is a camper that raises and lowers through a crank handle. Easy to set up and break down, it is a popular camper.
Fresh Water Filler - This is the opening on the outside of the camper around the fresh water tank where you fill the tank with fresh water.
Fresh Water Tank - This tank is mounted under the camper and holds fresh water. This tank is filled when you plan to do dry camping (Boondocking).
Full Hook Up - This is a site with an electric box, water pump and some have sewer drainage.
Fulltimers - This is an RV term used for those who live and travel full time in their RV.
G
Generator - This is a commonly used portable engine that produces electricity of 120v. Generators run on gasoline and you can plug your camper into the running generator and it will power the camper. They are classified by kilowatts.
Genset - This rv term is a short word for a generator set.
Gray Water Tank - This is the tank mounted underneath the camper that holds your used water from the shower and sinks. Always empty the black water tank first, then empty the gray water. This helps rinse out the black water tank and hose.
GAWR - This rv term stands for Gross Axle Weight Rating. In other words, it is the maximum allowable weight that can be towed over the axles.
GCWR - This rv term stands for Gross Combined Weight Rating. It is the maximum weight allowed for the tow vehicle and camper both. This includes the camper being fully loaded.
GVWR - This rv term stands for Gross Vehicle Weight Rating. It is the maximum allowed weight of the vehicle when fully loaded. Both the camper and the vehicle have a GVWR.
GVW or GTW - This rv term stands for Gross Vehicle Weight or Gross Trailer Weight. It is the actual weight of the tow vehicle or trailer when fully loaded for traveling.
H
Heating Strip - A roof mounted air conditioner is sometimes equipped with an electric heat strip. These are not designed to heat the RV, but will keep the chill factor down.
Hitch Receiver - A hitch receiver is mounted to the frame of the tow vehicle either in the front for towing the vehicle or the back to tow a vehicle or other towable. The receivers are different sizes, all of which is dependent on the tow capacity of the vehicle. The five (5) classes of hitch receivers are based on the maximum weight your vehicle can safely tow.
Hitch Weight - When your RV is loaded and ready to go, the amount of weight that is transferred from the trailer hitch to your tow vehicle is put on the hitch receiver. The hitch weight is also known as the Tongue Weight.
Hydraulic Leveling Jacks - Hydraulics are a great asset to motorhomes and they are indeed needed when leveling one. You will generally find them on Type A motorhomes. These jacks are controlled from inside the motorhome by a lever or touch button within the driver's seat.
I
Inverter - An inverter is one of the handiest tools on your RV. It changes 12-volt power into 120-volt power. It is an electrical box built into your RV electrical system. Your microwave or TV may use the inverter to work due to the voltage it takes to run them. You may need to add a higher wattage inverter if you plan to run anything heavy duty.
K
Kilowatts - A kilowatt equals 1,000 watts. Power generators are rated in kilowatts.
L
LP Gas - Carried in cylinder bottles, LP Gas is a liquid propane that is used to turn on your stove top or range, water heater, the LP switch on your refrigerator and the furnace. These cylinder bottles are mounted on your RV frame and are covered with a hood or plastic box to protect the valves. Keep a watch on the level inside the bottles to make sure you don't run out.
LP Gas Leak Detector - This is made like a smoke detector, only it detects propane gas. They are equipped with an alarm, similar to a smoke detector, that warn you of a gas leak. You will find these mounted close to the floor of your RV, due to the heaviness of the gas in the air. It will settle to the bottom.
M
Monitoring Panel - This is an important panel in your RV because it monitors all your fluid levels, such as the black water, gray water and fresh water in your holding tanks. Your battery level can be checked on this panel and on some RVs, you can check your propane levels.
P
Pilot Light - Your appliances and water heater are lit by a pilot light. This is a flame that burns constantly, used by the older models. The newer models are equipped with an electronic spark that automatically sparks the flame.
Portable Toilet - Also known as a Porta-Potty, is just what it sounds like. It is a portable toilet that holds a small water and holding tank. When the holding tank is full, it can be removed from the portable toilet and dumped at the dumping station. Mostly used for dry camping or tent camping.
Pull Through Campsite - This rv term is a great campsite to get if you are uncomfortable backing up a camper. All you have to do is pull into the site and stop when you are lined up with the electrical box and water pump. As easy as a drive through fast food line!
R
Regulator - A regulator is found on your LP Gas bottle control to keep the gas flow steady. It regulates the amount of flow you want. It keeps the correct pressure through the lines that the gas travels through to your RV appliances.
S
Safety Chains/Cables - These chains or cables are vital to the safety of towing your RV. They are used to stop your RV in case of hitch failure. They hook from the frame of your RV to your receiver hitch. Always cross the chains or cables when hooking them as an extra measure of keeping the RV in a straight path of travel.
Screen House/Room - This is a mesh screen "porch" that attaches to the outside of your RV. Most of them attach to the awning as an added room to protect you from insects and rain.
Sewer Hose - When you need to empty your holding tanks, you will need a 10' or longer sewer hose. It is a flexible hose that contours as needed to carry the holding tank water to the dumping outlet. Some campsites have a sewer ready outlet and you put your sewer hose directly from the outlet on your RV to the outlet at the sewer drain. Be sure to open the tank valves if you have a site that is sewer ready. The sewer hose stores in the rear bumper or in an small door opening on your RV. Make sure you use a sewer hose donut to keep a good seal between outlets. This keeps leakage out.
Shore Power - When you plug your RV into an external 120 volt power source, you are plugging into shore power.
Slide In - This is referenced to a truck bed camper.
Slide Out - This is a great feature to have on your RV. It provides you with extra room inside your camper once extended. Some campers may have more than one slide out. These also add extra weight to the tow rating for the RV.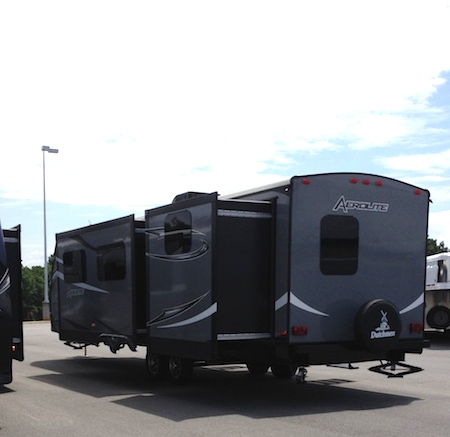 Slider Hitch - Used to pull 5th wheel campers, this hitch mounts to the bed of a truck. The RV hitch is slid into the slider hitch and locked. Backing a fifth wheel camper may be tricky as if using a short wheel base truck. Your camper and your cab corner may receive damage if you turn too sharp. Some hitches have two positions. One for towing and one for backing your camper.
Snowbird - This is an rv term used for RVers that like to pack up the camper and travel to a warmer climate for the winter months.
Stabilizer Jacks - An RV must be stabilized in order to be used, so you will find stabilizer jacks in all four corners of the RV that you will let down when setting up at the campground. Some are portable and you set them up and some are permanently mounted to the camper. Do not use them to level the camper. They are only made to stabilize it. Use leveling blocks to level one.
Surge Brakes - A hydraulic brake is used to keep the RV steady when it starts to surge or push against the hitch ball when braking.
Sway Control - This device is used to keep the RV from swaying when being pulled. Winds can be hazardous to drive in without a sway control. Two types are generally added as a caution, friction and cam. Both do a great job of adding stability when towing.
T
Tongue Jack - A jack that is mounted on the A frame of an RV or trailer which supports the front to raise or lower the trailer when hitching or unhitching.
Tongue Weight - Another rv term for hitch weight.
Totable Tank - A tank used to empty your holding tanks into to transport your used water to the dumping station. Most of them have wheels and can easily be pulled behind a vehicle or bicycle.
Tow Bar - Tow bars are used to tow a vehicle behind a motorhome. These vehicles are pulled with all four wheels on the road.
Tow Dolly - Same concept as a tow bar, with the exception of the towed vehicle has two wheels on a dolly and the other two wheels are on the road.
Toy Hauler - This RV has a rear door that opens up with cargo space to carry motorcycles, four wheelers, ATVs and larger toys or equipment.
Transmission Oil Cooler - Your transmission can get very heated when towing anything heavy. A transmission oil cooler can be installed to help the fluid circulate through to help keep it cooler. Most heavy duty vehicles are equipped with transmission coolers from the factory.
Truck Trailer - Same as a Slide In.
Type A Motorhome - A motorized RV ranging from 25 to 45 feet long. A conventional motorhome that is the largest of the three types. Most resemble a bus. These usually have all the added features of a home, such as a washer and dryer, satellite dishes, several slide outs and a theatre type entertainment center.
Type B Motorhome - A motorized RV ranging from 16 to 20 feet long. Modified with bath facilities, eating and sleeping room, these conversion vans are a comfortable compact size for traveling.
Type C Motorhomes - Ranging from 20 to 35 feet, these mini-motorhomes have a sleeping area that extends over the top of a truck. Larger than a type B, but not as big as a type A, these motorhomes are ideal for a small family.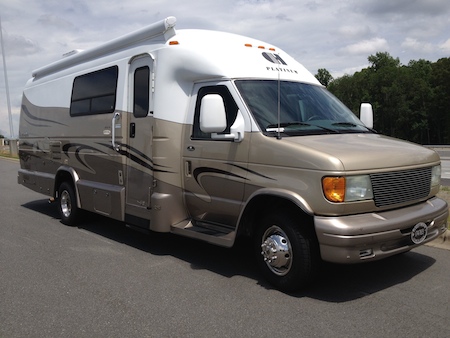 W
Water Pressure Regulator - A regulator used to keep the water pressure flowing without damaging the water lines and plumbing system in your RV. You attach the water pressure regulator to the campground water outlet and then attach your drinking hose to the regulator and the other end of the hose to your RVs water inlet.
Weight Distribution Hitch - These hitches are used to tow heavy trailers and RVs and provide a percentage of the trailer tongue weight to the axles of the tow vehicle. They allow for better handling and equalize the weight for the tow vehicle and the RV.
Wheelbase - The measured distance between the center lines of the primary axles of a vehicle.
Wide Body - An RV is generally eight feet wide. A wide body RV is wider than eight feet six inches wide.
If you don't know how a certain part works on your camper, please don't try to fix it yourself. Take it to your dealership and let them do the repairs. It will cost you more in the long run if you have a bigger problem to fix after you have "fixed" the other one.
They are specialized in electrical and mechanical repairs and know how to do them correctly.
If you want to try it yourself, call and ask to talk to one of the technicians.
I know at our dealership, they are more than happy to help you with a problem to fix it right.
They don't want you to make any problem worse for them to end up fixing if you don't do the repairs correctly.
Refer back to this list of RV terms if you are not familiar with the word. You will be talking RV talk before too long!
Travel Trailer RV Camping > Camping Know How > RV Terms: you are here