Airstream Travel Trailers, Then and Now
Founder of Airstream Travel Trailers, William Byam challenges us to "strive endlessly to stir the venturesome spirit". To ease that challenge he has provided many luxurious travel options to help those who choose to venture.

The company was established in 1931 and has continuously evolved since then, offering consumers today a wide variety of travel trailers that are designed for long term and full time use.
With new experiences and possibilities around every corner, it is essential to realize when traveling in an Airstream trailer there is no wrong turn or unreachable destination.

True to their name, Airstream Travel Trailers are built to move like a stream of air.
Most trailers are built with sufficient accommodations for becoming a permanent living space for between 2 and 5 people. 

Airstream trailers are each uniquely designed to fit the ever-changing demands and expectations of society.
Today there are 7 different styles of Airstream trailers, some of which offer up to ten different floor plan options as well.  The overwhelming customization options make one of a kind memories possible for families or people of all kinds.

Each Airstream trailer offers exceptionally exquisite exterior styling and uncompromising presence on the road.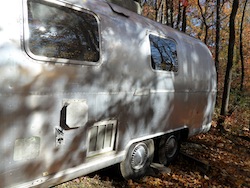 The Classic Airstream Trailer is known for its luxurious residential environment. 
It is designed for full time or long-term use and offers a spacious living area, private sleeping areas and unbelievable storage space.

This model also features an easy-out awning that has received a great amount of praise from Classic Airstream owners.

Similar to the Classic Airstream, The Eddie Bauer Airstream Travel Trailer is built to live in and offers 25 feet of organized functional space featuring a natural color palette. The trailer has a sporty exterior appearance featuring a bright aluminum finish, solar gray front and a top of the line sports hatch.

A trailer that looks similar to the Eddie Bauer Airstream is the Airstream Sport, a lightweight premium compact trailer. The Sport is known for setting the standard for ease of use. It is intended for those who wish to hitch up and go. This model is uniquely lightweight and can be towed by smaller sports cars, getting amazing gas mileage!

While the sporty and efficient trailers seem great, some people seek comfort over functionality. Myself being one of those people, I would prefer to live or travel in a trailer more like the Flying Cloud or the International Serenity.

The Flying Cloud is clean, comfortable and contemporary.  It is considered the perfect size for any adventure. The trailer incorporates innovative storage solutions and multifunctional work spaces.

Every one of the 228 inches of this simple Airstream has a functional purpose. The International Serenity is just as enticing, if not more. This trailer is designed with lemongrass and rice paper to target your inner Zen.
Every aspect of the trailer is designed to soothe and comfort the body and mind. This trailer is known for its calming aroma and one of a kind atmosphere. With 10 floor plan options this camping trailer style is bound to be a favorite.

There are two trailers styles that are slightly less luxurious than the previous couple mentioned.
The International Sterling and the International Signature are upscale, contemporary trailers. They offer sleek and sophisticated interiors and multiple design and fabric color choices. These styles are considered to have the perfect balance of luxury and efficiency.


Ultimate Luxury

I feel all of these trailer styles are wonderful in their own unique way and it was hard to choose a favorite but I have saved the best for last.

The newest edition to the Airstream Travel Trailers and the best in my book is the Land Yacht. The Land Yacht has a yacht-like interior that was designed by Mauro Mitchell of Riva Yachts.

This beautiful interior is accompanied by a sleek, sophisticated floor plan that sleeps up to five people and offers plenty of space for social entertainment and living areas.
This 28 foot long trailer has got my attention and would grab that of anyone taking the time to check out the website brochure!

After just a few minutes of reading I began to adjust my budget to save for an Airstream Travel Trailer! We have no control over where we come from but we have total control of where we are going and I want to go there in style.

Living on a Land Yacht seems like a pretty nice dream that I am sure others would share.
In the world of Airstream Travel Trailers, adventure is measured in miles, minutes and memories.
The best adventure may start with a trip to get your own Airstream Land Yacht, or maybe the International Serenity!
Home > Travel Trailer Manufacturers > Airstream Travel Trailers: you are here