Camper Gadgets - Making the Most of Your Camping Experience Wherever You Want to Go
Camper gadgets? Let's dive into what exactly they are. Let's see, I would define them as anything: Self-contained. No wires. No lines. No pumps. No hook-ups. No extras and even No-Worry.
What you see is what you need. No problem. That's it!
One problem new camping people have is figuring out what equipment and gadgets they should have for their camping adventures.
It's easy to get carried away and have so much stuff that there is not enough space for everything.
So be very selective about what gear you buy. 
Think about each item carefully to be sure you really need it and that the item will earn its place.
Small Camper Gadgets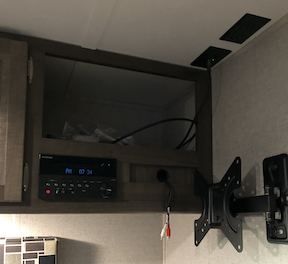 Some small camper gadgets that make sense include these:
A TV mounting bracket for rainy day entertainment
Extra wall hooks for hanging things to keep them off the floor and furniture
Portable lanterns that can be used outdoors
Dedicated utensils like hand can opener, bottle opener, utility knives
Unbreakable dishes
Inflatable mattresses or sleeping pads with inflator

More Essential Camper Gadgets

You can park your camper anywhere you want and have everything you need. There are some preparations you need to do before hand.
I'm assuming most readers on this page won't be doing primitive camping.  If you are, you probably won't be interested in this section.

Fill up your fresh water tank, stock up the kitchen, get packed up.
Let's look at what else you might need.

Gadgets for Electricity

Even when we leave home for camping, most of us still expect to have a few niceties and comforts of civilized life.  Usually that involves some type of electricity. 
If you plan to stay for several days, you will want to bring extra water, a battery for 12 volt appliances, and a small portable generator.
The 12 volt battery needs to be a deep cycle marine battery.
That means it will hold more voltage longer that a standard car battery. It is designed this way because there is no need for a high amperage draw.
All it needs is to hold 12 volts at low amperage for a long time. Whereas a car battery is designed for high amperage for a short period of time.
A deep cycle marine battery will keep 12 volts until it is almost dead. When it dies, it dies almost without warning.
Then it will need recharging which brings us to the need for a small portable generator with at least a 1500 watt capacity with a 12 volt output (which most generators have).
The lights in your camper will run off of the 12 volt battery, also, so only use the lights you absolutely need. A camper gadget needing only a charge to supply lots of needs.
With the fresh water, you will take baths, flush the toilet and wash dishes. You will find ways to ration it and make it last a while.
Bring bottled water for drinking. A full fresh water tank will add many extra pounds onto your towing, so be sure to compensate in your sway control bar.
The pump that pressurizes the water line runs on the 12 volt battery. It only operates when you turn on the faucet, flush the toilet or shower.
It makes the neatest little buzzing sound when you use either one. When using the fresh water tank, a shower is recommended to conserve water instead of a bath.
When showering, use the shower head valve to cut the water on and off between soaping and rinsing. This camper gadget brings one of the things you take for granted at home, running water, out to the field.
Now, if you can open the windows in your camper and be comfortable, you will not need to run the air conditioner. If you need to run your air conditioner, a generator that has at least a 4000 watt or higher capacity.
This will run your air conditioner and keep your battery charged at the same time. A camper gadget worth the money!
To conserve fuel, you may want to run the generator in the heat of the day, open the window in the cool of the evening and on through the morning hours.
The generator is a great camper gadget within itself, but it is optional.
Camping Refrigerator

Let's examine the camping refrigerator. This is one of the most incredible, can't live without, dual cooling, camper gadget appliances you will have in your camper.
You can cool or freeze anything you want even without electricity. These also run on propane. That way you can save on your battery power. It doesn't even use a lot of propane, either.
It is best to cool your refrigerator before adding your food. It takes a couple of hours to get the temperature cool enough for food safety. Once it gets cool, you are good to go.
You can switch from electricity to propane anytime you need to without losing any food. Now that's a great camper gadget!
Ice down your can drinks before putting them in the fridge, also.
Hot Water Heater

The hot water heater is another appliance you will love. It runs on either electricity or propane. If you are at a campground with an electric outlet box, you can save the propane.
But, if you decide to camp out in the woods, you can still have hot water by switching to the propane tanks. How about that camper gadget?
Propane Tanks

These propane tanks are found in the front of your camper next to the tongue. Some campers come with one propane tank or dual propane tanks. You can carry extra propane filled tanks with you if you plan to stay for a while.
These tanks can also be removed and refilled if you are close to a town.
These tanks are one of your best friends when camping. Your refrigerator, stove and hot water tank use the propane when you have no electricity. Your camper is equipped to be self-contained. Ain't that cool?
Holding Tanks

Let's take a look at the holding tanks. This is one of the most dreaded parts of camping, emptying the holding tanks. You have 2 holding tanks on your camper.
One holds used gray water, from the sinks and shower, and the other holds black water (sewer). You need to add a deodorizer to the black water holding tank before you start using it. When your tank gets full, you will need to empty it at a dumping station or sewer connection.
You can bring along a portable holding tank. You can fill this tank with the water you need to dispose of and take it to the dump station and empty it without moving the RV.
You will need to add more deodorizer to the black water holding tank every time you empty it. The portable holding tanks are on wheels so you can pull them with your bicycle or by walking.
Be sure to carry a waste water dumping hose with you. You will need to hook this hose to the portable holding tank's outlet and put it into the ground plug. When you release the valve, the waste water will flow into the dump tank.
Be sure to use the water hose provided to rinse out the portable holding tank and empty that water into the ground plug also.
These portable holding tanks can mount to the back of your camper for traveling.
You will need to mount a bracket on your camper for this almost can't live without camper gadget.
From Camper Gadgets to Travel Trailer Accessories