Camping in North Carolina

Camping in North Carolina could mean spending time deep in the forest or sunning on the wide beaches at the coast. 
In between these glorious places, there are lakes and rivers offering both tranquility and adventure.  You just have to know where to find them.

There is a comforting feeling that comes with a crackling fire and a diamond-studded sky overhead.
Night birds sing around the lakes.
Raccoons scuttle through leaves and undergrowth, searching for something tasty. 
The Brushy Mountains, The Smoky Mountains, and the Blue Ridge Mountains nestle all around you, securing you in their arms.
This is camping in the tranquil and vast mountains of North Carolina.
Plan a Waterfall Tour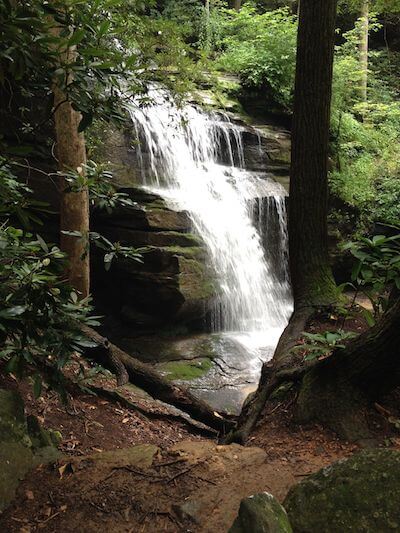 Moravian Falls has a wonderful family campground. Pitch your tent among the pines and hardwoods. A rippling creek will bring in the deer and other wildlife during the night.
The waterfalls will lull you to sleep. In the morning, explore the trails or drown a worm in the fishing pond. Picnic tables, hot showers and even a small camp store make this place homey. If you prefer a little less 'roughing-it', there is a cabin for rent and RV hook-ups.

White Water Rafting

Wilson Creek is the place where nature-lovers come to camp. Flowing from Grandfather Mountain, Wilson Creek is full of rapids, huge boulders to climb, sandy calm spots perfect for swimming, and great places to go tubing with friends.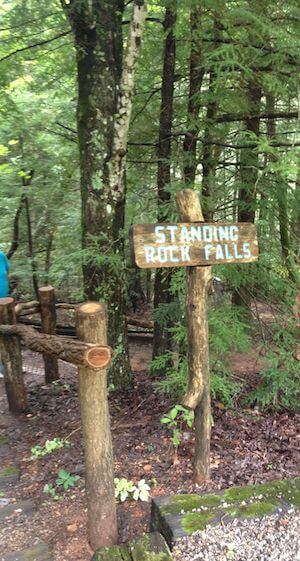 Set up camp at Mortimer Campground.
19 spots offer tent camping, flush toilets, hot water, fire rings and picnic tables- everything you need to disconnect from the world and enjoy your family.
Hike, bike or swim.
Listen to the water bubble.
Fish for supper.
Roast wieners and marshmallows and tell stories around the fire.
This is what you've been missing!

Smoky Mountain Meadows, located near Bryson City and the Nantahala Gorge, is the perfect get-away.
Near the Smoky Mountain Railroad, the famous Nantahala Gorge with its breathtaking views, and Cherokee Indian Reservation, there are loads of things to do.
Go panning for gold, rubies and other semi-precious stones at one of the nearby mines.
Spend some time at the casino in Cherokee. Or shop for authentic Cherokee carvings, moccasins and more in one of many stores. Take a ride on the Smoky Mountain Railroad and see the Fontana Lake trestle bridge where 'Forces of Nature' was filmed.
Fontana Lake is on the edge of the Great Smoky Mountains National Park.  Below the lake, there used to be a town before the lake was formed.  This is a popular spot for SCUBA divers, too.

After a fun-filled day, relax in a rustic cabin, pitch your tent by the creek, or park your RV under the trees. Fire pits, picnic tables, refreshing hot showers and a laundry area provide the perfect mix of 'camping' and 'the comforts of home'. There is also internet access, perfect for uploading all of those pictures to make room for more!

Bat Cave, Chimney Rock, and Lake Lure

Remember the movie Dirty Dancing?  It was filmed in this area of the North Carolina mountains.
These quaint little towns sit alongside the Broad River and highway 64, but be warned, these are mountain roads and they are very curvy.
Here, you can camp right beside the river.
Visit Chimney Rock park and climb to the top for a beautiful view of Lake Lure.
Rent a boat or swim from the beach on the lake or in the river.
This is a magical place, and one of my favorite places in North Carolina.
More Places for Camping in North Carolina

For those who want to be closer to flat land, Lake Norman State Park has amazing camping opportunities.
After your tent is up, bike around the park. Grab a canoe and explore the lake. Swim at the beach area. At night, listen to the whippoorwills calling around the lake.
Watch as the sparks fly upwards from the campfire. Sleep with the sounds of ducks, raccoons and deer in the background.
In the morning, enjoy the smell of coffee and bacon over the fire. Take your rod and your kids and go fishing. Or just sit and soak it all in.

Camping in North Carolina means relaxing with nature, whether in the mountains, on the coast, or somewhere in between.

If you have a genealogist in your family, plan a trip to Salisbury where the public library has a special genealogy library. There are beautiful campgrounds in Rowan County, as well as High Rock Lake.
And Even More Places to go Camping in North Carolina

Here are a few more well-known campgrounds in the state:
1. Pisgah National Forest: Located in western North Carolina, Pisgah National Forest is renowned for its scenic beauty and abundant recreational opportunities. It offers several campgrounds, including Davidson River Campground, Linville Gorge Wilderness, and Curtis Creek Campground.
2. Great Smoky Mountains National Park: Straddling the North Carolina and Tennessee border, Great Smoky Mountains National Park is a popular destination for camping and outdoor activities. The park features numerous campgrounds, such as Elkmont Campground, Cades Cove Campground, and Smokemont Campground.
3. Cape Hatteras National Seashore: Situated along the Outer Banks of North Carolina, Cape Hatteras National Seashore offers picturesque beachside camping experiences. Campgrounds like Oregon Inlet Campground, Frisco Campground, and Ocracoke Campground provide opportunities for beach recreation and relaxation.
4. Jordan Lake State Recreation Area: Located near Raleigh, Jordan Lake State Recreation Area is a large reservoir that offers multiple campgrounds, including Poplar Point Campground, Crosswinds Campground, and Parker's Creek Campground. The park is popular for boating, fishing, and wildlife viewing.
5. Linville Gorge Wilderness: Known as the "Grand Canyon of the East," Linville Gorge Wilderness is a rugged and scenic area in western North Carolina. Primitive camping is available along the Linville River and on the rim of the gorge, providing a remote and adventurous camping experience.
6. Stone Mountain State Park: Situated in the northwestern part of the state, Stone Mountain State Park offers camping facilities amidst beautiful scenery. The park features a large granite dome, waterfalls, hiking trails, and a family campground with both RV and tent sites.
7. Kerr Lake State Recreation Area: Located on the border between North Carolina and Virginia, Kerr Lake State Recreation Area offers a vast expanse of water for boating and fishing. The park has several campgrounds, including Nutbush Campground, Satterwhite Point Campground, and Bullocksville Campground.
These are just a few examples of the popular campgrounds in North Carolina. It's always advisable to check availability, reservation requirements, and any specific regulations or restrictions before planning your camping trip. Read more on safely camping in NC.