Class A RV - If You Want Luxury and Large Living Area This Is Your Dream
A Class A RV is the most luxurious of all motorhomes. They can be 25 to 45 feet long. Most of them look like a bus, but are not near as bare.
These Motorhomes are packed out with all the yahoos and whistles you can imagine. Let's see what you can find in one of these bus type travel trailers.
As you go into the door of the motorhome, you will find a fully contained, ready to travel piece of heaven on wheels.
Inside you will find everything you would have in a normal home, including a bathroom on wheels! How's that for convenience?
If you are willing to spend top dollar for one, you will get features such as a washer and dryer, satellite dish, home entertainment systems, back up cameras, hydraulic leveling jacks and several slide-outs.
Equipped with an outboard generator, this Class A RV is in no need of anything but to enjoy your camping trip in it.
With a full bus load of gadgets, you will find traveling in it a lot of fun.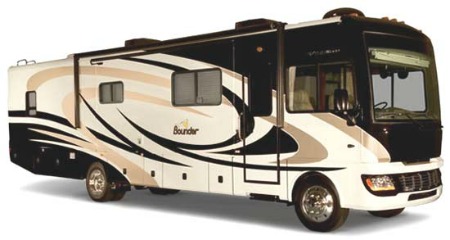 You load it with your own necessities, get in and go. It's built on a chassis that is a special design. They are powered by either regular gasoline or diesel.
It is easy to drive because of the power steering and automatic transmission. The windshield is large and tall enough for a great view of each side of the road and then some.
They are very spacious with lots and lots of storage area. Of course, there will be extra maintenance and upkeep of this motorhome.
It will need oil changes and scheduled maintenance like a regular vehicle. With a sleeping arrangement that can accomodate up to 10 people, you and your family can travel comfortably.
The price is a little steep, starting around $55,000 and going all the way up to $500,000, depending on what you get tacked on as part of your package.
A small vehicle can be towed behind the Class A RV without any problems.
This is called a dinghy and it will serve as your "get around vehicle" so make sure pull one that will fit your needs. Do you need a truck? Make it a small, light one. Do you just need a car? It also needs to be a small, lightweight one.

Easy to drive on highway.
Spacious, open floor plans suitable for fulltimers.
Elevated driver position provides a good view of the road ahead.
Driving and living compartments are connected. No need to get out of the RV during stops. Living area accessible even while moving.
Most storage space of all RV types.
Can tow vehicle behind or support a carrying platform on hitch.
Most expensive of all RV types.
The RV Consumer Group rates Class A's as having more structural problems and safety issues in crashes, especially those with slides.
Larger models can be difficult to maneuver in tight spaces.
Driving compartment being part of the living space does not appeal to some people, feeling like they are always in a vehicle.
Most are too large to drive around town; alternate local transportation required.
Elevated driver position and width of the vehicle make it difficult to judge clearance on the right side.
Top clearance can be a problem under low branches and structures.
Problem compounded if carrying items on roof such as canoes.
Requires large storage area when not in use.