Hugh White State Park Offers Family Gatherings and Much More
Hugh White State Park in Grenada, Ms. is located on the beautiful Grenada Lake.
It brings the finest outdoor recreation amenities available, all nestled in a setting unmatched in natural beauty.
Grenada Lake is best known as a haven for crappie fishermen, but is also well-stocked with bass, bream, and catfish.
Hugh White State Park is centrally located between Memphis, Tennessee and Jackson, Mississippi.
This is a nature lover & water enthusiast's dream!
The natural beach is peaceful, white and inviting.
Taking a walk along the beach, going jet skiing in the water, or just diving right in for a swim are just a few things to look forward to.
Plan a challenge to see who can find the most kinds of wildflowers.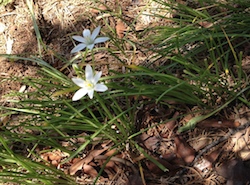 No pets are allowed in cabins, villas, motels or any other park building. All campers need to have at least 30 feet of extension cord for some campsites.
Pets are NOT allowed in or around the cabin area.The 1 bedroom cabins have 2 Full sized beds. The 2 bedroom cabins have 3 Queen sized beds.
It's a great camping day no matter what you decide to do. Find a great eatery anywhere in Grenada, if you want to get out and visit town.
Hugh White State Park Amenities

Here are some of the facilities and amenities offered:
Bath House
Boat Launch Ramp
Boating
Cabins
Comfort Station
Disc Golf
Dump Station
Fire Rings
Firewood Sales
Fishing
Golfing
Group Camping
Ice Sales
Jet Skiing
Meeting Hall
Office
Parking
Picnic Shelter
Picnic Tables
Playground
Powerboating
Ranger Station
Skiing - Water
Swimming
Swimming Pool (Cabin guests only)
The 173 developed camping sites are located at a shaded area near the Outlet Channel below the Grenada Lake Dam. Each site features water, electrical hook-ups, picnic tables, and grills.
Hot showers are available in four bathhouses, and a central sewage dumping station is located in the developed camping area. All sites are available for reservations up to 24-months in advance and are highly recommended.
A limited number of primitive camping sites are located on a secluded bluff overlooking Grenada Lake, offering an unspoiled, panoramic view of the water.
This State Park features 12 duplex vacation cabins perched on a bluff overlooking Grenada Lake.
Each of the units is equipped with an air conditioner, bed and bath linens, basic kitchen equipment, utensils, and dishware.
Some cabins feature screened porches but do not have a living room area or couch, (Duplex cabins # 1, 3, 5, 6, 7, & 10). Some duplex cabins feature a living room area but do not have a screened porch (Duplex cabins # 2, 4, 8, & 9).
Only two duplex cabins feature an added bonus of a fireplace (Duplex cabins # 11 & 12).
Reservations may be made up to 24-months in advance and are strongly recommended.
Hugh White State Park
P.O. Box 725
Grenada, Mississippi 38902-0725
Phone: 662-226-4934
Reservations: 800-467-2757