RV Tires: A Major Part In Getting There, or Not
RV tires are one of the most overlooked part of maintenance for your road trip. No matter what RV style you have, the tires are what determine your arrival.
Part of travel trailer care and maintenance is good tires.
Let's think about some important factors when checking your tires.
Here are a few things to consider:
Weight
Distribution of cargo
Air Pressure or PSI (pounds per square inch)
Age
Tread wear or pattern
Sun damage
Foreign material (nails, screws, imbedded rocks, etc...)
Tears or splits
These are just a few things to inspect before you begin your trip. Checking your RV tires before you pack up is a good idea. That way when you get packed and revvvvvved to go, you know you will be safe.
More Tips for RV Tires and Safety

Be sure to keep a heavy duty tire gauge on hand. Get one that will measure high pressure, like for 18 wheeler tires. These gauges can measure tire pressure at a higher scale than a regular car gauge can. You want one that will be accurate, also.
Never put car tires on an RV. They are not heavy duty tires to hold a lot of weight. Truck tires or RV trailer tires are best for safe traveling. Do not overload your camper for the tires limit. That is important to remember!
You can have your travel trailer weighed at a moving company if you are unsure of the weight you are planning to pull. Check your manual for the specs on weight distribution and make sure the tires you have are within the safe range. If in doubt, ask your RV dealership to help you.
If you ever do have a flat or a blow-out, this RV Trailer Aid will be a lifesaver. You can quickly and easily change flat tires on any tandem-wheel trailer.

Simply back the intact tire onto the Trailer Aid. It safely raises both tires to an ideal changing height without the hassle of assembling and cranking a jack. It's great for changing tires on horse and livestock trailers without unloading.
Great for leveling trailers and RVs. It is made of a high-strength, lightweight polymer for easy lifting and storing in an outside storage bin.
You can get a printed guide on how to weigh your travel trailer at Bridgestone Truck Tires. Make sure you look on the side of your trailer or RV tires to get the correct tire pressure. You will find several things on your tires that are essential to the care or replacement of them.
If you don't understand all the tire information printed on them, any tire store or service station can probably help you.
Here are some things to consider that can cause tire failure:
Sun damage or UV Ray exposure
Age of the tires
Mileage on the tires
Not rotating the tires
Overloading the tires
Under inflating the tires
Weight of the travel trailer
Weather conditions
Rubbing against curbs
Never put anything on your tires that claim to make them last.
Just washing them with soap and water is sufficient to keep them at their best performance.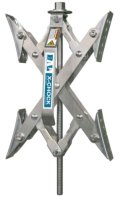 You will love this X-Chock Tire Locking Chock. It will always keep your RV tires from rolling.
Your camper will shift on you if it is on uneven ground. Your tires need to have some kind of stop once it is parked at your camping site. It applies opposing force to tandem tires for added stabilization.
Retracts to 1 3/8" and extends to 12". Includes plated ratchet wrench with comfort grip. Locks for added security. Get yours before unhitching your camper from your tow vehicle. Once it is unhitched, it will remain stable and immoveable.
You can use this on any wheel. You may want to put one in your boat to use on your boat trailer when you park it. It may just save your boat trailer from rolling off while you are out enjoying your ride on the water.
It will even come in handy for your vehicle tires if you have to park on a big slant. It is just a great camping gadget to have around. 

From RV Tires to Travel Trailer Towing