Town Creek Campground

Town Creek Campground! What an excellent start to a new year! We decided to start out the new year camping.
I don't know how many people go camping on the first day of the year in the winter, but it really wasn't that cold.
The day temperatures were actually kind of mild, but the evening and nights were COLD!
This family favorite campground is located out in the boonies. (You know what the boonies are, right?)

You will find it off Hwy 50, in West Point, Mississippi.
It is on the Tennessee-Tombigbee Waterway.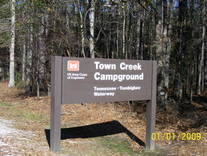 We stopped at the Ranger Station and choose one of the best sites in the campground, #70. Being January 1, we had our choice of 96 out of 100 sites available.
One of the first things we saw going in was 5 or 6 deer standing next to the road. These deer do not get spooked like other deer. I think they are used to people being around. They know they are safe from harm.


You are not allowed to shoot any animal on the campground. There are places to hunt, though. They are seen early in the morning and late in the evening. These are amazing animals.
They are beautiful and sometimes they just blend in with the scenery so you don't always see them unless they are out in the open areas.
The site we chose is located at the bend of the Tombigbee Waterway. This is the place to see every boat coming or going on the water. We saw several barges pushed by tug boats.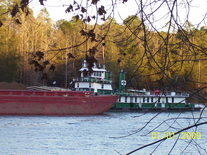 If you haven't seen a sight like this, you are really missing something amazing.
It just astounds me how those little tug boats can push those HUGE barges through the water. If you didn't hear a slight roar, you would not even know it was going by. They hardly even make a wake in the water! As you can see, this is a great picture of wonder.
We finally settled in for the night. Ronnie and I were the only ones on the end of the campground. Not another camper in sight. It was quiet and naturally beautiful. We woke up and started our fire for breakfast.

As I have told you before, Ronnie is a pro at cooking on the campfire.
Here he is at his best. He can cook just about anything you want right on the open pit fire grates. They say practice makes perfect, and he's had lots of practice. That's one of my favorite things about camping.

Those eggs and bacon were the perfect start to our lazy day. After breakfast, we just sit around the campfire and poke in it. You can't sit by the fire and not poke in it.
I found a great poking stick when we went for a walk around the campground. After sitting around in the smoke for a few hours, you kinda begin to smell like it. We smelled like smoked hams!!
We walked around and talked about all the campsites we've stayed at when the kids and grandkids were with us. What a wonderful family hobby! In this picture, the bend of the river is to the right. Barges come up and down the river.

Sometimes they were coming toward us and other times they were going away from us. It is so impressive how those things just float on the water. They are so heavy.
A lot of things are carried in those barges. We've seen rocks, sawdust, bricks, barrels and many other things.
We stayed at Town Creek Campground when we had our pop up camper. A big storm came through and we had to retreat to the restrooms for shelter. This campsite is on the other end of the bend.
This is where the backwater starts. This is also a great campsite at Town Creek. The deck is a great place to put your feet up and watch all the boats and barges.
There were a few brave fishermen on the water over the weekend. I don't know if they caught any fish or not but they were sure trying.
We are not fishing people, but watching through binoculars is fun.
If you don't have any binoculars, you need to get a pair. You can look smooth across the water to the other side and see birds, geese and even deer enjoying their environment.

Available Facilities:
Bike Trail
Bird Watching
Boat Launch Ramp
Bathrooms - showers, toilets, handicapped accessible
Boat Dock
Dumping Station
Fire Rings with grills
Fish Cleaning Station
Fishing
Hiking Trails
Hunting
Ice
Laundry
Parking
Pavilion
Pedestal Grill
Photography Opportunities
Playgrounds
Primitive Camping Area
Sightseeing
Stargazing
Sunbathing Beach
Telephone Access
Walking
Wildlife Viewing

Town Creek Campground
10690 Witherspoon Road
West Point MS 39773
(662)494-4885
Town Creek Campground is well worth staying at. You will be 100% satisfied with your stay.

From Town Creek Campground to Mississippi Campgrounds