Alabama Campgrounds Offer Beauty and Memory Making Times
Alabama Campgrounds are just over the edge with some majestic surroundings and beautiful layouts.
Some are loaded with hiking trails and swimming areas. You will find some great opportunities for taking some gorgeous pictures, too.
The most exciting campground we have visited is the Pickensville Campground.
It is just over the Mississippi state line and easy to get to.
We have stayed there several times and it is one of the best rated in our book.
You will find a large, beautiful lake, picnic areas, wonderful wooded walking trails and large camping lots.
The pads are level and easy to back into.
Alabama Campgrounds: Pickensville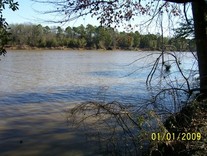 Looking at the lake is appealing and there is a lot of beautiful scenery in the area. You will see fishing boats, barge boats and house boats.
We saw some one-of-a-kind flowers growing in the lillies. They are purple and majestic. I don't know what they were called, but our grandchildren just called them "Pretty Purple Flowers".
The picnic area is large enough to accommodate family reunions, birthday parties, Sunday School class functions, weekend get-togethers or just the two of you.
You can enjoy a nice, relaxing weekend with your family or just commune with nature by yourself.
There are lots of things to do, including great biking trails and hiking trails as well as fishing on the lake or just rowing your boat.
Don't pass up the opportunity to just sit and watch the birds fly around. Get out those binoculars and you can see beauty for miles.
If you want a spectacular campground to visit, then get on over to Pickensville Campground.
Here is a map of the Campground. You can see it is quite large and has lots for you to do.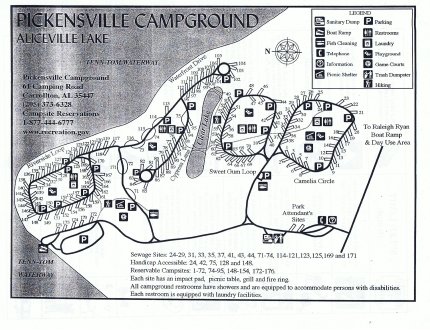 Pickensville Campground in Alabama
Alabama's Cochrane Campground

Another great place to camp is at Cochrane Campground.
It is nestled in Aliceville, Alabama. It is on the banks of the Gainsville Lake.
It is part of the Tennessee-Tombigbee Waterway.
It is a fairly large campground.
With 60 sites, this one fills up fast.
There is lots to do and lots to see in the area.
Alabama Campgrounds will not disappoint you. Your stay will truly be memorable and you will want to return again and again.