Aliner Offers Big Conveniences in A Little Space
Aliner is the best way to describe these one-of-a-kind campers. That is what they are. A great lightweight camper that is easy to tow. You will find the most weight it weighs is 3500 lbs.
Not only is it easy to tow you will find it easy to park and store when not in use. These fold down level like a pop up camper.

The reason it is called an "A liner" is the shape of the top when it is opened.
It looks like an A when it is opened up.
It is so easy to set up. In 30 seconds, you can be on your way to begin your camping adventure.
With limited room inside, the cooling and heating is at a minimum.
The Distinctive Aliner Profile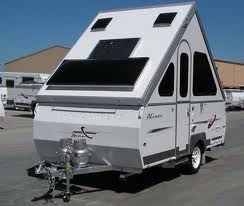 The pride that goes into each one of these is very noticeable. They are built with customer satisfaction in mind. Each inch of space has been utilized and is needed.
With the manufacturing plant in Pennsylvania, you know the heating of the camper has got to be great! It gets cold up there.
With simplicity being high on the appearance, you seem to identify with others with the same interest. People who own them seem to bond. Kinda like an extended family. They understand one another.
They also have a Forum and an Owners Club and are very proud of them. Nothing but positives from these owners.
There don't seem to be any flaws or defects that are discussed in the Forums. Just people connecting with other people who can understand the other.
If you are looking for a small, lightweight, easy to tow, easy to maintain, easy to park and store, easy to set up and take down and easy to love, get you one.
The phone number to call is 724-423-7440.
They would love to answer your questions and help you in any way they can.
These are very friendly people who love what they do and want you to love them, too.
You can also email them at "customerservice(at)aliner.com".
Travel Trailer RV Camping Home > RV Styles > Aliner: you are here