Buying An RV

Buying an RV is a big commitment as well as major investment on your part. It may require some time and advance preparation to get your money situation organized.
Doing this prep work can save you money when you borrow.
While you are doing the prep work, consider renting an RV to make sure you really want to make this huge commitment.
Another benefit to renting is to try out a particular type or size of RV to see how it fits your family.
You may decide to try out a few different styles to get just the right model. Taking your time on this important investment will save you money in the long run.

Buying From a Dealer
Getting an RV financed is not hard. Your RV dealership can help you with all your financing questions. They can also help in getting you financed with some great loan APRs.
Getting all the research done beforehand will help you make a final decision.
Know your limits on what you can spend before you go looking.
Get pre-approved from your lender and it will save some time and possibly some embarrassment later on.
If your credit is not considered to be good, your APR will not be the greatest.
You can use our loan calculator to figure out what your approximate payment will be. Keep in mind, your insurance is not added to your payment.
You know how much you are able to spend when buying an RV. You know what your payment needs to be in the range you can afford. You know what size camper you need. You know your credit information.
All of these factors need to be finalized before you go to your financial institution. Do your homework. Ask questions. Shop around for the best rate. Know what you want before you venture out.
Not all banks are alike. Some can finance based on your credit history, some based on your assets, some on your income and some based on your job.
Buying a Pre-Owned RV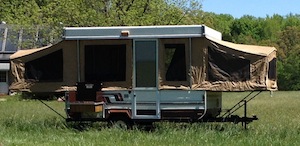 If you know you will be buying a pre-owned RV, whether from an individual or from a dealer, take the time to get familiar with current values.
You can study the Kelly Blue Book and NADA price guides. 
This will help you narrow down your choices to fit your budget and you'll know what you're looking for and what you should pay for it.
Be sure to check into insurance costs, too, so you won't be surprised by an unexpected expense.
Buying from an Individual

If you are looking for a private sale used RV, your loan will be based on the make, model and blue book price. Do a thorough inspection, inside and outside, before you consider buying a used RV.
Look for hidden damage and previous repairs. Take someone along with you that is trained to look for imperfections in the body.

Ask questions about anything that doesn't look just right.
You may be able to get a better price from a private seller than from a dealer, but you may get a short warranty from a dealer.
There are pros and cons to both approaches, so do lots of research and comparison shopping.
And then after you buy your RV you can look forward to the fun of furnishing it to make it really your own.

Travel Trailer RV Camping > Buying an RV: you are here