Furnishing Your RV - A Must Have For Relaxing and Enjoying Your Excursion
Furnishing your RV is one of the most essential needs for camping. You will want the extra comforts of these recliners to sit around your camp site.
Now, most campers come with the basic furnishings, but we want to talk about the "extra" furnishings.
You can find durable reclining chairs with weather-resistant woven fabric, powder coated steel frame and armrests designed for easier entry and exit in chair positions.
One great feature on some of them are the infinite reclining angles and thumb levers to lock in your position.
Place the removable pillow just where you need it.
You can get different colors and styles.
Some designs are built for comfort and sleeping. It will be hard to get up once you lay back in some of them, because of the relaxing of your body will rebel against you!
You can find many different kinds of things you will want to get for outdoor enjoyment. You can get outdoor tables, cookware, BBQ utensils, outdoor mats, lanterns, flashlights, grills, outdoor fryers and even table decorations.
For indoor needs, browse around for products. Check with any dealership and you will find some excellent accessories for your travel trailer. 
You can get flower arrangements, pictures to hang on the wall and even some decorative throw pillows. Look for home interior decorations and match your interior colors with your taste of decor.
Candles and candle holders make great interior decoration. Adding a lightweight coffee table in the middle is extra seating and if the top is removable, it is extra storage room. You can use it for setting your food or drinks on.
Expand Your Space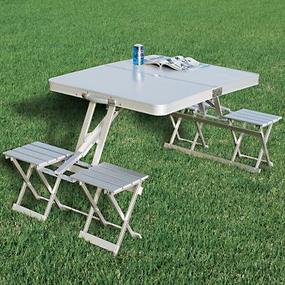 One item you may want is a portable picnic table. You can get them as a lightweight fold up that can be taken away from your campsite for picnics. These are great for Boondocking, also.
We looked at many different styles before making a decision. I want some that are going to last through outdoor weather and kids.
You can count sleeping bags as part of furnishing your RV, because they are like bed linen.
You will need them if you take kids and tents. Might as well get them put in a cubby for future use.
Compact televisions come standard in most travel trailers, and most have built-in DVD players. That is a great way to spend a rainy day. Just plug in a movie and it beats trying to find a clear channel to watch.
Furnishing your RV is not a difficult thing to do.
All you have to do is use your imagination and shop within your budget.
You can create a home environment with very little effort.
Just get what you like and make it your home away from home.
Travel Trailer RV Camping > Buying an RV > Furnishing Your RV: you are here