How to Sell a Camper

If you're wondering how to sell a camper or RV, you might be thinking about selling it online, on Craigslist or Facebook's marketplace, for example. The problem with that is you have to deal with less serious lookers who might waste your time. When you have a used RV for sale, what you need is a pool of buyers who really want to buy a good used camper or RV.
Another option is to list it, for a fee, with a service such as RV Trader.
With a service like this, you can sell your camper online.
There's a fee for listing your RV or camping trailer, but the benefit is that your camper can be viewed by thousands of potential buyers. 

Be sure to take lots of photos so people can see exactly what your camper looks like, inside and out, as well as all the appealing features. Describe it accurately and with good details.
But there's another approach to selling your camper that you might not have considered: RV consignment.

How to Sell a Camper on Consignment

RV consignment for selling your RV or camper is great for you and for buyers. Buyers can see your used RV in person, and you don't have to be the one to show it.

Some camping retailers offer RV consignment as a way of selling your RV or camper. You will need to negotiate with them to see if it makes sense for your particular circumstance. They will charge a consignment fee and recommend a selling price based on the age and condition of your RV. You would want park it on their lot so buyers can see it. Camping World is one company that offers consignment. Shop around to see if there are other choices in your area. And don't forget to ask for references so you can contact successful RV sellers. You might even pick up tips from these past customers.

You should keep insurance coverage while it is on consignment. And of course, you should remove any personal property that you aren't selling with it. It would be a good idea to do maintenance and cleaning before you show it or negotiate with the selling company to get the best deal. Test everything to make sure it's ready for camping. A buyer will be excited to go camping, and you don't want last minute problems to sour the deal.

Before you begin negotiations, do your homework. Research what's on the market that is similar to your camper to get an idea of RV prices to determine what your range should be. Visit NADA Guides, RV Blue Books, and RV Trader to see what they recommend. Be realistic about your camper's condition. Also keep in mind that the RV dealer or company expects to get compensation for selling your RV for you. That will come out of the sale price, usually.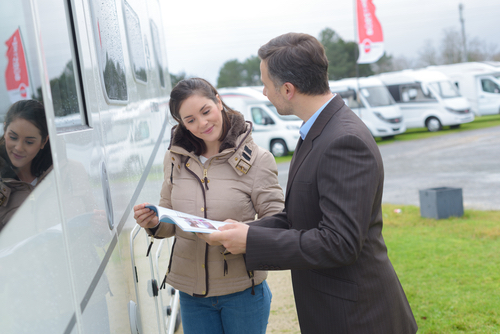 Big Benefit of Consignment Selling

The biggest benefit of selling your camper on consignment is that the selling company should have easy access to lenders. They can help their buyers get camper financing. This makes it easier for buyers to afford your larger or newer camper or RV. Having camper loans available while they shop is a definite plus for both buyers and sellers. And, that gives you a bigger pool of buyers compared to those who could pay cash through a private sale like Craigslist, etc. With a private sale, your buyer has to have ready cash or a way to arrange their own RV loans.

Another benefit of RV consignment is that you don't have to be bothered with phone calls or showing your camper to prospective camper buyers. There's always a little risk when you bring strangers to your home. If you work, the problem is complicated by coordinating your schedule to accommodate a prospective buyer. These factors might make the cost to sell your camper on consignment worth the cost.