Lance Campers

Lightweight and Durable,
Truck Campers and Travel Trailers
Lance campers have been around for many years and offer quality slide in truck campers and travel trailers.
Some of the outstanding features you will find include the use of Azdel.
This product is 50% lighter than plywood, which reduces the weight of the camper and in turn gives you more weight to load your stuff in.
The lightweight camper allows for a lighter duty tow truck, which allows for better gas mileage.
Azdel doesn't absorb moisture, doesn't mold, mildew, or rot.
Your heating and cooling cost is minimized because it is a great insulator.
It also offers excellent sound proofing.
The hot water heater and furnace are made by Atwood. With a lighter weight construction, they both run more efficiently and cuts down on the overall weight of the camper.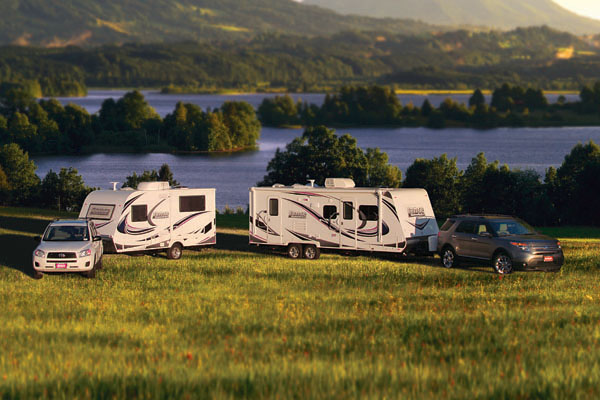 The hot water heater holds 6 gallons of water. It uses the Exothermal Technology providing the equivalence of a 16 gallon tank in this lightweight 6 gallon one.
The furnace is quiet, efficient and lightweight. Just set it to automatic and it warms up fast. Once your desired temperature is reached, the unit turns to Low and operates without another thought from you.
The suspension system, using the Torflex axles, is also self-contained. Using natural rubber cords support heat treated bars of medium carbon steel. They are press fitted and welded to the ends of them offering high strength torsion.
Towing is easier due to the minimized bouncing of the trailer. The brakes are self adjusting so you don't have to even think about them wearing down.
Another great feature you will find on the Lance Campers is the Jenson stereo system.
One wall mounted system offers an AM/FM stereo, a CD/DVD player and a front USB port for using your own devices.
You know the Jenson audio and video products are designed to withstand extreme temps, high humidity environments and have been around for many years.
Home > Travel Trailer Manufacturers > Lance Campers: you are here