Motorcycle Camping Adventures

Motorcycle camping adventures are a fun, easy and a lightweight way to enjoy two sports together.
It is not hard to pack a motorcycle for camping.
Packing your motorcycle for a camping adventure is a lot like packing for a hiking trip. You will basically need the same things.
Think small and light, compact and portable.
Take the bare essentials. 
Some motorcycles have side saddle bags.
These allow for great storage of clothing and personal belongings.
Some can be locked for added security.
Packing for
Motorcycle Camping Adventures

These can be hard cased or soft cased. They are both quite roomy and will hold a lot of equipment.
If your motorcycle has a luggage rack on the back, you have even more room to pack your camping supplies.
Packing light is the key. The space for storage is very limited and every open area is used.
Depending on how long you intend to stay is the first factor you need to consider before packing. The lighter you pack the more you can get on the bike.
Here are a few things to consider when packing for a motorcycle camping adventure trip:
A lightweight backpacking tent for one or two people
Saddlebags that are secured and can maintain weight
A travel camping stove with propane bottle
A bungee net designed to hold down cargo
A source of food
Lightweight hammer, and flashlight
Wet wipes, roll of tissue, zip lock bags
Towel and bottled water
Small bottle of dishwashing liquid
Disposable washcloths
Check the weight limit on your saddlebags. Make sure they can support the extra weight. Test them before heading out.
Wearing a backpack filled with some essentials will eliminate taking up some space. Fill it with your clothing, food, map, water, travel sized toiletries, inflatable mattress and pillow, blanket (weather related), mess kit and rain gear.
You can even get a solar shower.
We bought this one, filled it with water in the morning, set it in the sun for several hours and had hot water for hours.
When cooking, we had a sterno stove. It is actually very sturdy and we cooked three full meals on one can.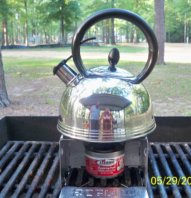 Put your cans directly over the grill. You can actually put three cans of food on the stove top at one time.
It doesn't take long to heat the contents. Keep them rotated so they will heat evenly.
A big plus for the sterno stove is...It folds flat for traveling. You can tuck it away in a pocket in your backpack. I had my doubts about it working, but I was wrong. It worked great!
Trial and error will be something you will need to practice. You may grow to love cooking on this sterno stove. I know Ronnie had a fun time just learning to use it. I think he is now a sterno stove pro.
Foods for Motorcycle Camping Adventures

Some foods you can prepare are:
Instant Boil-in-Bag-Rice
Instant Grits, Oatmeal, Potatoes
Single Serving Coffee, Tea, Hot Chocolate
Canned Vegetables
Canned Beef Stew, Roast Beef and Gravy
Canned Spam, Vienna's, Tuna, Chicken
Canned Chef-Boyardee
Good snacks to bring:
Mixed Nuts
Boiled peanuts
Beef Jerky
Boxed Cookies
Pringles Chips
Trail Mix
DON'T BRING:
Bags of Potato Chips
Fresh Fruits
Fresh Meats
Fresh Vegetables
If you have room, you can pack extra shoes or boots. Roll up your clothing and put them closely in the backpack. Put the most accessible things you will need on the top.
I gave Ronnie a Tent Combo for Christmas and he absolutely loves it! It has a two man tent, 2 chairs and 2 sleeping bags all together as a kit in a handy carry bag.
The sleeping bags are comfortable and the camp stools are just right. You will love it.
Load your tent and camping stove on the luggage rack or on the passenger seat. This is where you will need a bungee net.
 This will hold everything down that you cannot fit in your backpack or saddlebags.
Make sure your camping tent is waterproof and weatherproof.
It is essential to pack your tent up dry after you camp. If you pack it with dew or rain on it, you will have mildew on it.
If you are not able to pack it dry at leaving time, be sure you put it back up when the sun is out to dry it out.
Don't wait too long before setting it back up to dry.
Be sure to check your cargo whenever you stop for rests. Your camping items can shift with the wind blowing against them or just from the road bumps.
With some attention to the important details, such as safety and load distribution, you can have a successful motorcycle camping adventure  trip to remember.
Be sure to bring along plenty of cool water or Gatorade to drink when you stop for breaks.
You will need to stretch your legs and get some focus time.
If you plan to travel and carry your motorcycle along when traveling in a vehicle, you can get a small compact trailer made especially for towing a motorcycle.
This is the coolest idea for the RV traveler and motorcycle adventurer both.
From Motorcycle Camping Adventures to Ways to Camp