Teardrop Campers for Easy Towing
Looking at teardrop campers, you might feel as if you have gone back to a time with fuzzy neon rugs and puffy hair, or even farther back.

Establishing their popularity in the 1930s, teardrop camping trailers were an easy to tow, light weight, fuel efficient way to travel.

This streamlined, compact camper for two remained popular until the 1960s. 
They were then overshadowed when bigger family-style camping trailers became popular.
The teardrop camping trailers disappeared for a while until their reemergence in the late 1990's thanks to the power of the Internet.
As they are the probably the smallest travel trailer, teardrop travel trailers are currently growing in popularity throughout the United States as well as in Europe, Israel, New Zealand, South Africa and Australia.
There are organized camping outings around the world for people with teardrop trailers known as "gatherings". These little pear-shaped tear drop style trailers are surprisingly accommodating and comfortable!

Most teardrop campers are equipped with the following features:
a mini fridge
cabinets
a roof vent
a rear galley
a rear hatch
a payload platform for extra cargo
linoleum flooring
carpeted sidewalls with a vinyl clad headliner. 

Most of these tiny trailers are finished with a fiberglass shell. A typical tear drop camper trailer is between 4 and 6 feet wide, 8 and ten feet long and 4 to five feet high. These trailers tend to weigh less than 1000 pounds ,which makes them easy and cheap to tow with just about any vehicle.

There are many larger companies currently racing to re-engineer and modernize the teardrop style travel trailers. They are becoming increasingly popular due to their tow-ability. 

A couple with a small car could travel far with one of these little campers. The teardrop trailers are geared towards those seeking adventures outdoors who only need shelter for sleeping.  They're also perfect for the minimalists among us.
Cooking in Teardrop Campers

The rear galleys of these tiny campers are a wonderful feature unique to these trailers. The rear galley is the back of the trailer where a hatch is lifted to reveal a strategic and efficient set up.

The galley typically includes a sink with a water faucet, a mini fridge or cooler storage area, a preparation table and racks for supplies storage. This feature makes a camping cookout effortless!

The simple and functional design of teardrop campers make pleasing camping fans very easy. There are many different styles and features offered by different companies.

Serious campers even have the option to have a customized teardrop trailer built to fit their personal desires.
Glenn, owner and mastermind of Hickory Nut Campers,  spends his days customizing wooden trailers for people to enjoy. "This is a business and a hobby for me, and I love it", he claims.  And many love his useful creations.


Possible Drawbacks of Teardrop Campers

A teardrop camper would not be a good choice for anyone who suffers from claustrophobia or someone who is larger than average because these are small campers. The sleeping space is necessarily compact.

Where to Find Teardrop Trailers for Sale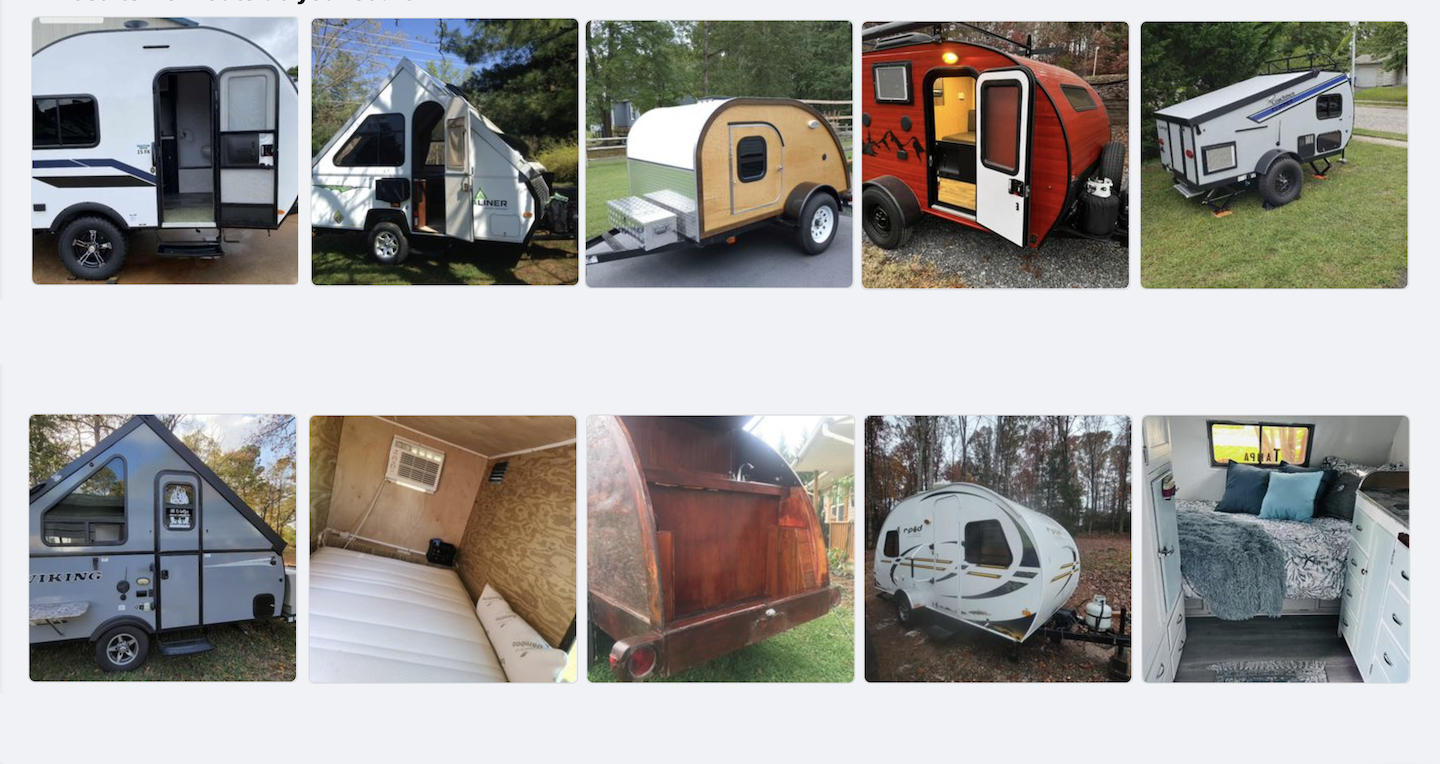 Along with the smaller custom companies, there are many bigger, more well-known companies that manufacture teardrop trailers on a much wider scale, such as : 
Bean Trailer, CampInn, Little Guy Travel Trailers, American Teardrop Trailers, Cozy Cruiser Campers and many others. 
Used teardrop campers are also often found for sale on internet sites such as Facebook Marketplace, Ebay, Craigslist and Amazon.
Just today I saw a tiny teardrop made by the Tiny Camper Company in Florida, for $6000. It was a gorgeous blue color and looked gorgeous. I also saw a an Amish-built teardrop called C@lypso for $17,000, and it was adorable and very colorful.

With prices ranging from  $3,000 to $30,000, there are teardrop trailer options for everyone!
Travel Trailers > Teardrop Campers: you are here