Biking Safety Tips

Biking safety can be a lifesaver. You can find many different kinds of items that are considered safety needs.
A child safety helmet is the best place to start.
Protecting your head is a smart move. Most head injuries in children are due to falling.  Protective gear is super important.

All those creative moves they make on bikes will eventually end up with someone falling off and hitting their head.
Teaching them safe biking before any accident greatly reduces a chance of one happening.
Make sure the bicycle helmet fits correctly.
You will need to know the head size.
You can get all different styles and colors, like this Combo Pack.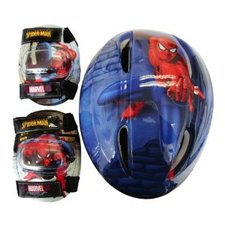 The important thing is to remember is the "It's better to be safe than sorry" rule and use precautions whether on the street or on bike trails.
Another good protective measure is to have reflective accessories on your bike or on your clothing. This will ensure a vehicle coming down the street can see the rider.
This reflective safety tape will glow in the lights. Some shoes are made with reflective strips on them. Nice to have, huh!
If you have an infant, don't leave them out! They can ride in a bicycle child carrier.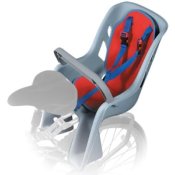 These seats are built to hold children according to their weight (usually 40lbs). Biking safety needs to apply when strapping in a young child, as they can't hold themselves in very well.
You can get these in different styles and colors. The main thing to look for is the harnessing. It needs to be one that is easy to use and doesn't take a long time to hook up.
Check the padding that will surround your child. You will want it to be nice and thick, yet soft and not have any sharp or rigid edges. Remember, this is for their biking safety.
Get a seat that has all the built in features for biking safety. They also have reflective devices on them for safety. Make sure the child or infant is securely fastened in the seat. A harness will need to be adjusted for safety.
Make sure you mount the child safety seat securely to your bicycle. Most infant seats come with the hardware to install it. You may want to take extra measures of caution if your child is very young.
Remember that very young children can't tell you when they are uncomfortable or are hurting in any way. They will cry and then you have to figure it out from there.
They may be scared the first few times they ride in their seat. Make them feel safe. Let them ride with their favorite stuffed animal or blanket. It will offer comfort to them and may even give them some support with balance.
You will need to keep a good balance with the extra weight on the back. A child will move from side to side to see around you or behind you, so be prepared for sudden movement.
For Biking Safety Take Care of Your Bicycle.
Follow These Guides For Maintenance
Always keep tools on hand that you can work on the bicycle with. You never know when you will have a flat tire, so keep an inflator handy.
Keep tire repair kits, wrenches, screwdrivers, fix-a-flat and even a bike safety rule book to read to your children. They need to know how to be safe while having fun.
Keeping your bicycle in good working condition is an essential in biking safety.
Here are a few things to check:
Keep your chain clean and lubricated. Using a lightweight oil, spray the chain while turning the pedals. Please don't use motor oil as it is not chain friendly and will also hold dirt and grime, sand and even leaves. Inspect your chain periodically for wear and broken links. Replace as needed.
Keep the moving parts of your brakes inspected and oiled. Look at all the moving parts of the braking system and inspect them for dirt buildup. Put a few drops of oil in these areas, such as the brake levers and pedal sprockets.
Check the air pressure in your tires. This is a simple thing to do that is so often overlooked. Good tire pressure makes pedaling easier, makes your tires last longer, helps prevent flats and keeps your rims from damage.
Inspect the brake pads on the front and the back wheels. Brake pads are the rubber pads that clamp down on your rims when applying your brake lever, to slow you down or stop you. Make sure they are aligned on the rims evenly, and don't rub the tire or miss your rim completely.
Check Your Biking Equipment:
Maintain and adjust the bicycle brakes and tires
Get a head light and reflectors when biking at night and wear reflective clothing
Mount a rear view mirror and you can see behind you
Protect against head injuries, get a good quality helmet
Biking safety needs to be followed whether you are on the open road, on a hiking trail, riding through the woods, or just walking with a rider.
If you are not bike savvy, you can always ride an electric scooter. Just charge it up and it will run for about 35 miles and will go about 20 MPH. It is great for jutting around on. Makes a great go-getter ride!


Bicycling Etiquette and How To Use It
Bicycling Etiquette:
A lot of bicycle riding is done on roads and streets shared with motor vehicles. Obey the bike safety rules of the road like you were driving a car. Stop at stop signs, slow down at intersections and use hand signals before turning or changing lanes.
Always ride on the right hand side of the road. Stay in single file as far to the right as possible. Kids will be all over the road, so use extreme cautions when around them.
Be careful when traveling around turns and crossings. Watch for moving vehicles, and be prepared to use your brakes quickly.


Avoid riding along the side of cars when going down the street, they may turn in front of you without seeing you.
Keep your hands on the handlebars. Now is not the time to show off your talents.
Watch for dogs, broken glass, and moving or parked cars.
Watch for other people who may be walking.
Use caution going around curves and over hills.
A bicycle rider is required by law to yield to people walking.
Keep in mind your bike is not as big as a car.
Having a horn on your bike may prevent an accident.
Although the speed limit is usually 10 MPH through the campgrounds, you may not be seen, so be on alert.

Travel Trailer RV Camping Home > Campground Fun Games > Biking Safety: you are here