PopUp Campers

What are popup campers? They are the most easy to use, easy to tow, lightweight and easy to set up camper you can get.
With a low clearance you can actually see how to back it up onto your camping pad with no problems.
These RV's can easily be towed with a car, small truck or SUV. You do not need to have a heavy duty hitch or towing package on your vehicle. Just hitch it up and go! Now that's easy!!
If you are looking for new pop up campers, you will want to visit a dealership.
If you are looking for a used camper, you can find them at a dealership also.
Be sure to ask about any damaged areas that have been repaired, so you will know about them.
Ask about the warranty on the repairs.
If you choose to buy a used camper from an individual, you will need to inspect it for damage.
Some may be visible, some may be hidden.
Invest in a book to help you know what to look for and also where to look. It will save you hundreds or maybe thousands of dollars in repairs after you buy the camper that you may not see.
You can get greater gas mileage pulling a fold down camper than any other camper. Once you hook it to your tow vehicle, you can travel and find a parking spot with ease.
It is not any longer than a full sized car, so you can get into a parking lot and turn around if needed without any problems. You can also see over the roof and observe the traffic behind you.
Once at the campground of your choice, back it in and you are ready to set it up. Now the set up process is a little different than your bumper pull or fifth wheel camper.
This little camper unfolds from both ends. Some even have an expandable room called a slide-out to give you extra room inside.
Our popup camper had an expandable dining area. The beds slide out on each end and are supported by rods. The tarp covering slides over the beds and is held by Velcro tape underneath.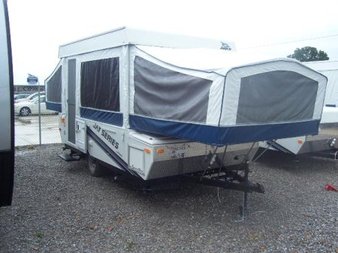 These are completely waterproof so you will not get wet if it rains (provided you set it up correctly).
The water and electricity are easy use. Just plug in the cord, run your water hose to the spigot and if you have a bathroom in your camper, set up your black water hose.
There you have it! You can start enjoying your time at the campground.
On some models the accessories in your fold down can be easily transitioned from inside to outside. You can take the stove top out and it will hang from the outer shell of your camper.
The dining table will set up and create extra space for whatever you need it for. You even have an awning to keep you dry and cool.
Be sure to put everything back in it's place before lowering the top of your camper when ready to pack up.
When it is time to pack up, just go in the reverse order of set up.
You can carry coolers, chairs, small bicycles and toys inside the pop up.
Be sure to keep everything below the level of the beds.
Anything above that level will keep the top from lowering all the way and could damage the ceiling.
Empty the refrigerator before folding up.
If you decide to get a pop up camper, be sure you ask the dealer how to utilize it.
You will enjoy this camper for many years to come.
Once you decide on your camper, you will begin a new way of enjoying life. Keeping a record of your travels is easy with a simple notebook that has dividers.
It is a great "bookkeeper" to help you plan and maintain your travel information.
How To Set Up A PopUp Camper - Video
Pop Up Camper Pros and Cons

PopUp Camper & Fold-Down Trailer Pros
 
One of the least expensive RV's 

Very light weight. Can be towed behind light vehicles such as small trucks, SUV's, vans, and large sedans 

Tow vehicle doubles as local transportation 

No concern for top clearance because trailer folds lower than the tow vehicle 

Requires no special storage when not in use. Fits in standard driveway or back yard 

Can reach less accessible camping sites that are too tight for large RV's

PopUp Camper & Fold-Down Trailer Cons
Limited space practical only for very short trips.
 
Living area is closed up during transportation and is inaccessible even during rest stops.  

Non-existent or limited insulation makes this type uncomfortable in cold weather.
---
Home > RV Styles > Popup Campers: you are here