Primitive Camping

Brings You and Nature Closer Together
Primitive camping, also known as "boondocking" or "dry camping", is camping outdoors with nature only. Most campgrounds have a camping area specifically for this. Visit a campground and walk around the sites. What will you see? Nothing but a pad and a fire ring.
Most areas have the bare essentials for using a tent only. You can put your tent on the pad provided. You can scout around for your firewood and cook on the fire ring grate.
You will find Boy Scouts roughing it for a weekend.
Water will need to be taken in a canteen.
You will have no lights, no water, no electricity and no toilets, but it is not all bad.
You would want to go in the spring or fall when the weather is seasonable comfortable.
Sleeping in sleeping bags, inside a tent is what primitive camping really is. It is getting one on one with nature. This does include mosquitoes, ticks, flies and sometimes some wild critters.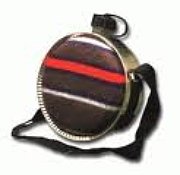 In order to conserve water, it is best to do like the Boy Scouts do if you have extended primitive camping. Yes, a latrine. In order to make a latrine, you will need a portable shovel, rope and a bow saw. Dig a deep, large hole away from the campsite.
Cut a log long enough to go between two trees (fairly close together). Tie the log between these trees. You will sit on this. Make sure you tie it where your feet will be on the ground for stability. Use the dirt from the hole to cover your "outdoor business". (Don't forget the biodegradable tissue).

But look at all the opportunities you have for outdoor photography. You will see things other people only dream about seeing.
Fishing is usually a way of getting your food. Most of the time a fishing area is nearby so be sure you pack your pole and some crickets or whatever bait is needed.
It will get cool at night, so be sure to bring the proper kind of clothing. A light jacket for day use will help keep the mosquito bites under control.
Boots will need to be on your list. It could be some muddy areas to walk through and possibly some snakes along the way. Remember, the area is fully wooded, so the sun does not shine in there very much.
This is a great way to get away for a weekend. You will not need a lot of supplies. Here are some things you may need:
tent
lighter
boots
sleeping bag
insect repellant
hatchet
food
fishing pole
fishing bait

flashlight or lantern
extra batteries
light jacket
seasonal clothing
backpack
camera
compass
walkie-talkies
area map
You will need a source of light when it gets dark. Flashlights work good, but a small portable generator will be a great way to have your electronics workable.
Just plug them into the generator and you have electricity.
Just use it for the basic essentials.
It will not supply enough amps for a lot of things.
Ask a Boy Scout Leader in your area for some tips and techniques on primitive camping if this is your first time to go.
They will be glad to help you. 

From Primitive Camping to Ways to Camp