Romantic Camping Ideas

Romantic camping is the perfect way to start outdoor fun. There are so many things you can do to keep that spark alive when camping. Whether you are in an RV camper or a tent, you can have the time of your life!
The most well hidden camping sites are what you want to look for to begin your getaway to romance. Some camping sites are up in the woods and far away from all other campers. These are more private and more secluded.
The spark of love can be fanned into a roaring blaze even without a campfire.
Speaking of a campfire, nothing is more romantic than curling up together by a glowing campfire.
Even if you don't say a word, the atmosphere is full of passion.
Traveling together and spending time together is the most important thing to keep that spark ignited. Camping in the great outdoors is just a spark along the way.
We love to go in the winter months. You have to keep a good roaring fire going and the campground is virtually empty. There is very little activity on the water.
You basically are loners and have your choice of campsites. Be sure to pack the proper outdoor clothing and bring extra blankets for sitting outdoors.
Romantic camping is great for a honeymoon, a get away weekend, an anniversary or just a celebration between you. Who said you even need a special event to have a romantic getaway? Just go out of the blue and have that special time "just because".
If you decide to go for a traveling just the two of you time, you can take along a tent and stop whenever you feel like it and pitch your tent and stay as long as you want to. Just pack it up and move on and enjoy the trip.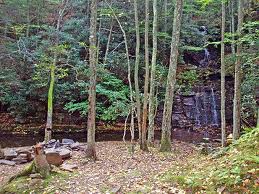 When Do You Find Private Time For Romantic Camping?
If you want to be really isolated, you need to go in the winter time. The campgrounds do not have many campers this time of year. The ones that are there will be few and far between.
You will have a greater choice of sites open to choose from. If you cannot go during the winter months, then don't count on holidays for that special time.
Campgrounds tend to fill up during holiday weekends and warmer weather. Kids are plentiful during these times. If you do manage to reserve a site with privacy, don't forget to bring some of your favorite romantic items from home. You know what they are!
Quiet time at most campgrounds is at 10:00pm. Most children and most adults are settled in for the night about that time. Some adults will sit outside around the campfire and just chit-chat about the day or plan for tomorrow.
If you are on a time alone camping trip, use your daylight hours to scope around the campground for private use later. When the time comes for you to begin your adventure, be sure to bring a flashlight with you. You don't want to run into any surprises from nature! Carry you a blanket or something to put on the ground to sit on.


Get a clear view of the sky and lay back and enjoy the stars. Watch for airplanes, or UFO's or some kind of flashing light. Make sure you are away from the lighting of the campground or you won't be able to see clearly. Before too long, you will be seeing stars of your own when you get cuddly.
Create the perfect, low-cost outdoor experience. Turn up the heat in your relationship with a romantic camping trip. In this simple list, you can learn how to put together an adventure you'll never forget... one that's sure to create lasting memories.

Simple ideas to turn ordinary camping times into spicy new adventures!
Choose and prepare the perfect camping site!

Take a hike off the beaten path!
Carry your essentials for a spicy hike!
Bring along a cozy blanket!
Build a romantic campfire to gaze into!
Dress for a romantic campout!
Sounds of nature or romantic music for an enchanted dance
Visit the beaches in Virginia if you want some great romantic camping.
Virginia Beach Vacations: Virginia Beach is a resort city with miles of beaches and hundreds of hotels, motels, and restaurants along its oceanfront. It is also home to several state parks, several long-protected beach areas, and numerous historic sites.The city is listed in the Guinness Book of Records as having the longest pleasure beach in the world.



From Romantic Camping to Ways To Camp