RV Curtains

RV curtains are a vital part of the interior trim. A lot of windows have, what we call, cardboard curtains. That is, they are made of formed cardboard, and are covered with a trim that matches your interior.
These are nice to have, but you can't do much with them. You could take them down and put up some cloth curtains on a rod.

To me that looks so much nicer.
Our camper has the cardboard curtains, but we have a toy hauler and it "fits" it.
They just look right in there.
In the bedroom, however, there are some cloth curtains, but they are UGLY.
We changed out the bedding and now I am on a curtain hunt for the final touch.
It is easy to hang RV curtains. The only drawback is the windows are made kind of squatty. That means they are not very tall. Any curtain you get will just about have to be altered.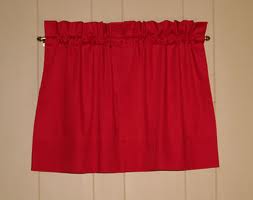 The valance panels are probably a good replacement without any altering. You can get them in many different colors and styles. I will be searching for them soon.
If you plan to alter some curtains for your RV, be sure to measure twice and cut once.
You will not have to spend much time on them, just a good cutting and hemming.
Getting some to match your camper colors may be a slight problem, also. You can get a scrap piece of cloth to take home to see if it matches your interior.
Some RV bedding comes with matching curtains in the accessories.
Even the bed sheets are included.
I like to match up my own styles.
You know, getting the bedspread or comforter, finding the shams to match that and the accessory pillows are fun to shop for.
I like to have a solid color curtain and a patterned bed covering. You know what you like, go shop!!
Have fun looking for the perfect ones.
From RV Curtains to Travel Trailer Accessories